This week our team took a guided tour to the NEXTDC B1 Data Centre. Our IT service partners, Data Outsource use NEXTDC for data hosting and we thought it was a great opportunity to check out this premium facility for ourselves. After all, this is where we securely store our Spotfire data.
Our guide from NEXTDC was Steven Bischa who took us through the 2010 retrofitted data-Centre-as-a-service building in Brisbane's CBD. NEXTDC is renowned for their high standards in providing power, security and cooling within their facilities. From the biometric fingerprint security and 24 hour security office to minimum N+1 redundancy and 12 hours' onsite fuel supply, we quickly learned that what NEXTDC promote is exactly what they deliver.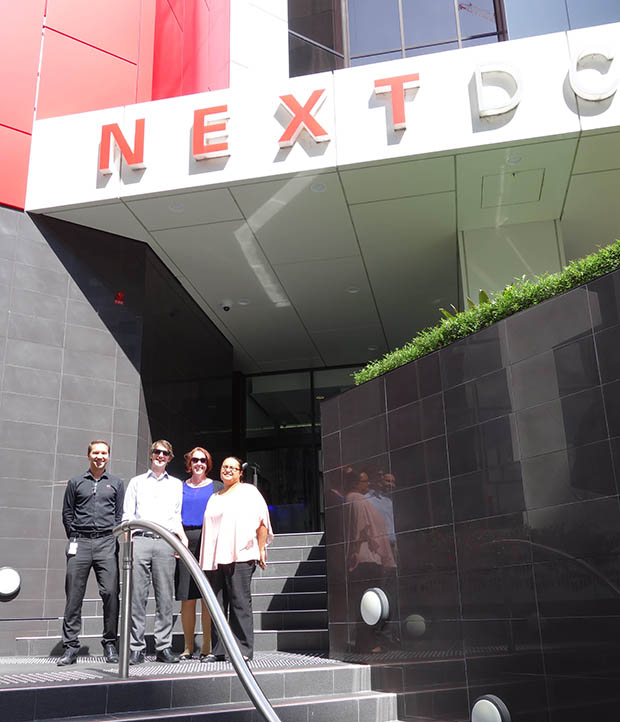 Above: NEXTDC Account Manager Steven Bischa and Strategenics' Mike Cooke, Laura Taylor and Liz Connolly.
It is reassuring to see that the security and safety of our data is in the hands of such professional and innovative companies as NEXTDC and Data Outsource. We look forward to continuing our relationship with these important partners as we build towards a Smarter, Faster and Better environment Together.
Click on the links to find out more about both NEXTDC and Data Outsource.