You're probably tired of hearing this already, but I'm afraid it's inevitable: Moving to the cloud is no longer a matter of if, or even when, but it's a matter of how.
Still, many businesses are holding on to the belief that the cloud is still a future issue. Well, in the blink of an eye, mostly thanks to the global pandemic, we all got a first-class slingshot ride to the future, where predictions of cloud adoption are already happening right in front of us.
It's time to roll up your sleeves and start that cloud journey. It's neither scary nor challenging, if you first understand why you're doing it. Moving to the cloud because everyone else is doing it is one way to go about it, but we believe that truly getting on board with the benefits of cloud helps pave the way to a smooth cloud migration experience.
We've put together these four major business benefits from moving to the cloud.
1. Lower costs
Pop quiz: Is hosting your tools on-premises more expensive than on the cloud? If you ask 10 people, you'll probably get 10 different answers. Many see this as a straightforward question, but really, it's more complex than most people realise.
Let's take a closer look at the costs. Cloud can seem more expensive if you're looking at simply the monthly subscription costs of cloud vs. software. These surface figures aren't the whole story. What businesses often miss, unfortunately, is looking at the long-term value and cost-savings of cloud.
Here are a few things to think about: Operational and hardware costs are the biggest chunk of on-prem expenses. A few hours of system downtime alone can cost 3x more than a year's worth of cloud subscriptions. The resources and time spent by your IT team are effectively halved after moving to the cloud.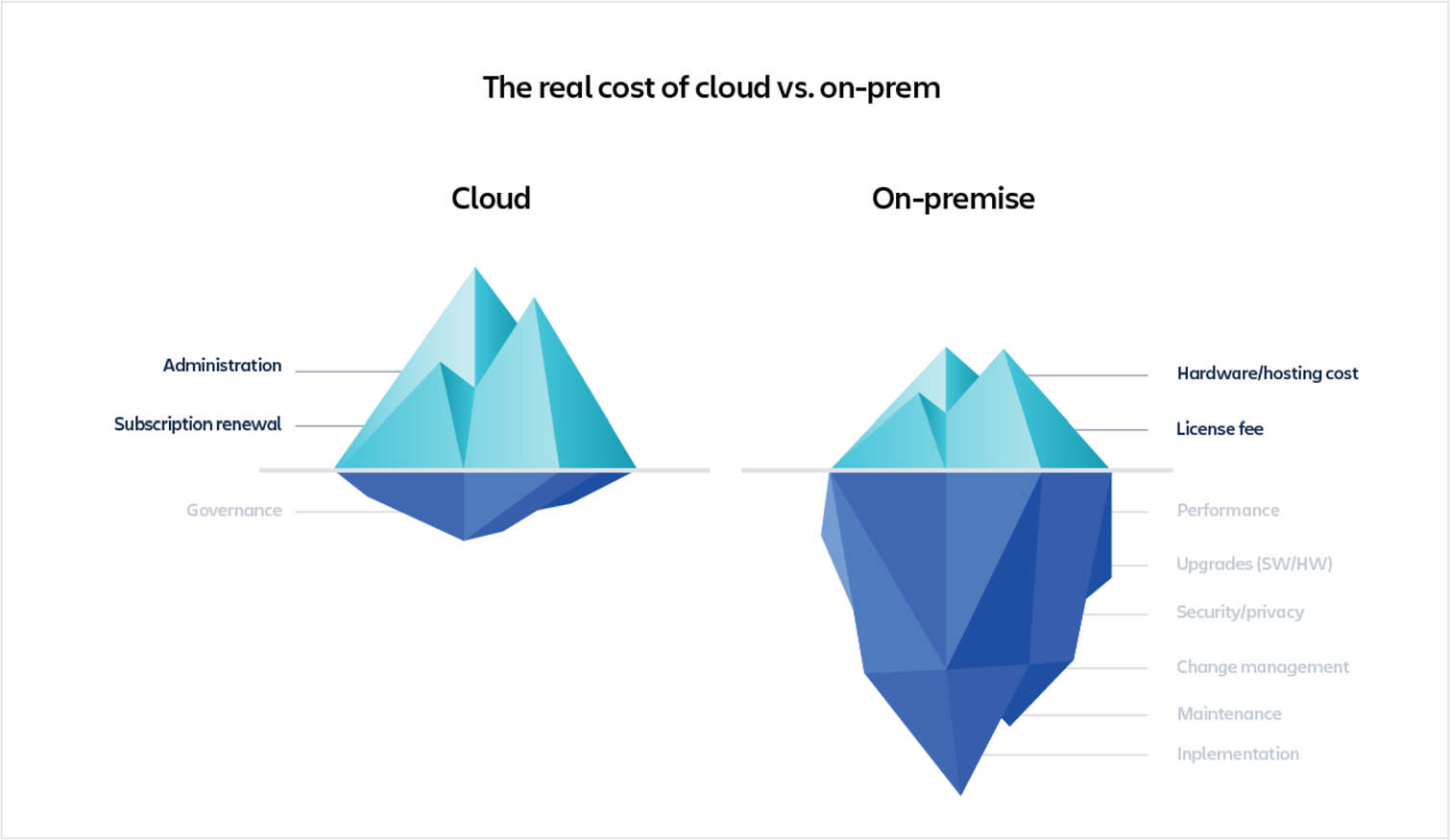 A reality many businesses overlook is that on-prem workloads are overprovisioned, which means you're not even using most of the capacity you're paying for. And this is also what is often compared when businesses consider moving to the cloud, which is the wrong way to look at it. In reality, by moving to the cloud, you stop paying for resources you're not using; right-sizing your instances can slash up to 36% of your costs.
The real question here isn't "which one is cheaper?", it's "which one is more cost-effective and valuable in the long run?".
2. Scale faster
"Scale" – probably one of the most overused business terms today, after "agile". There is a good reason for it though, if you can look past the fatigue of the term.
Think about it this way, "scale" in the business world means "to grow proportionally while keeping resources minimal". This is every company's goal. An easy way to picture this is how your business, like many others, uses email marketing software to send information to all your customers at the same time as opposed to emailing or calling them one by one, because it's more "scalable": achieving many things with as few costs and resources as possible.
So, with that same picture in mind, why wouldn't a business adopt the cloud to scale their other workloads? Scalability is made possible with flexible, responsive cloud technology. If you want your business to grow without pumping in additional resources while avoiding major tech hiccups along the way, then cloud is your answer.
Scaling on-prem is possible, but finite. If you need to keep systems running smoothly as your user base grows, your team will have to either add more computing power to your existing machines (vertical scaling) or add more servers/machines (horizontal scaling).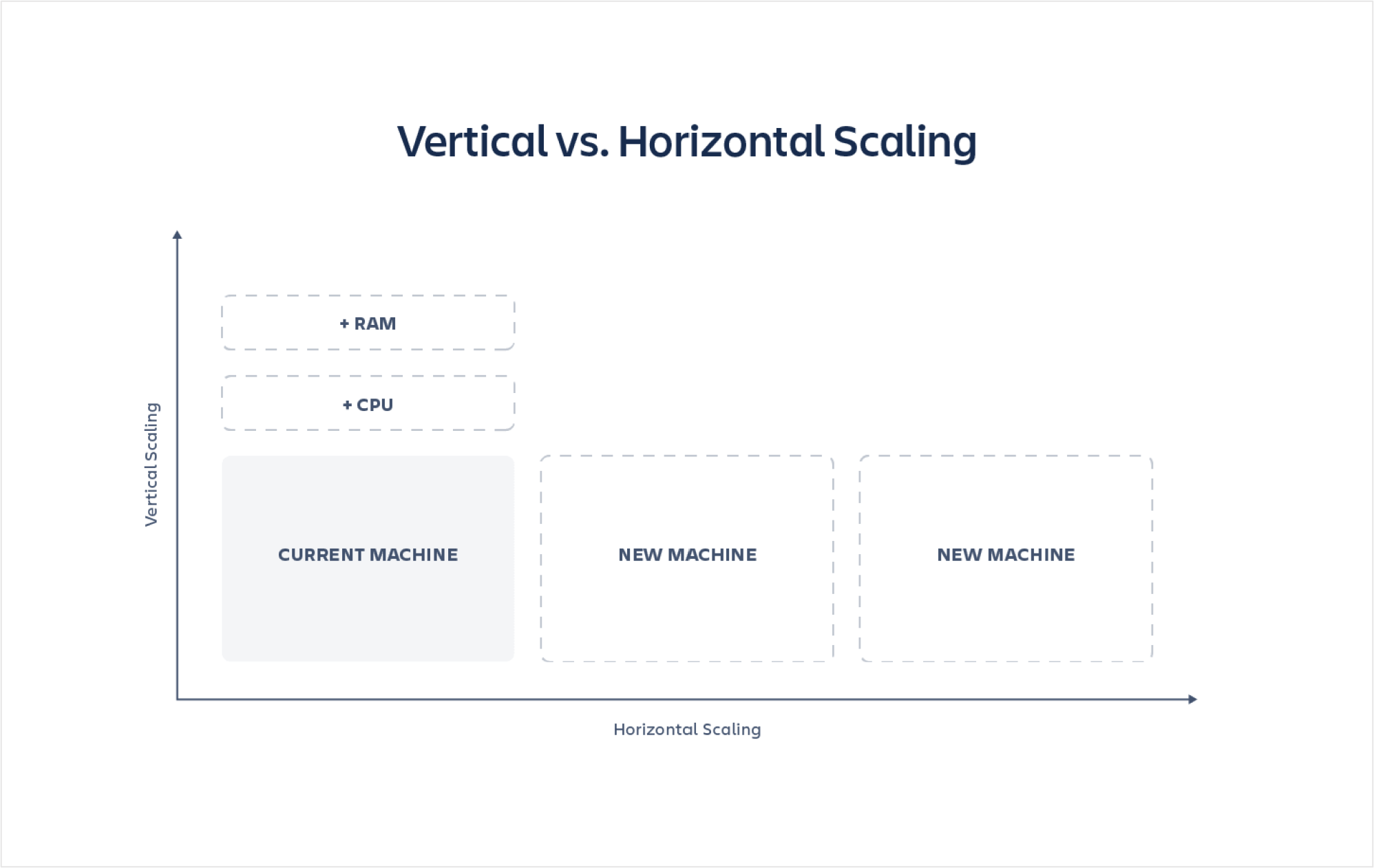 Not only are vertical and horizontal scaling a manual process, your machines also need to be offline at the time your plan to scale an upgrade. Your team will also need to purchase and set up load balancers to prevent overloads and outages. All in all, this is a meticulous process you and your team don't have the time to plan for if the business is focused on growth.
3. Boost speed and performance
42% of professionals say better network performance is a key reason for moving to the cloud. And as we all know, the bigger your company, the more performance matters.
According to the 2018 IDG Cloud Computing Survey, 71% of business leaders say their number 1 reason for cloud adoption is to improve the speed of IT service delivery.
How exactly are speed and performance affected simply by moving to the cloud, you ask? Here's how:
Uptime guarantees: This is ensured by any good cloud provider out there, giving you peace of mind knowing your systems will be available to your team and customers at any given time. Both AWS and Atlassian, for example, guarantee around 99.9% uptime.
Better network performance: If your systems underperform, you could lose customers. And since retaining customers is cheaper than getting new ones, it's safe to say that network performance has a direct impact on a company's bottom line.
Faster development and deployment: Continuous Integration and Continuous Delivery (CI/CD) are best practices for DevOps teams. CI/CD on the cloud is faster and less complex, allowing for multiple tasks simultaneously.
Streamlining processes: Standardising and streamlining internal processes is far easier to implement and manage on the cloud, affecting the speed and performance of your team and the tasks they perform.
4. Increase team productivity
According to a Stanford study, employees who use cloud apps and remote access tools are 13% more productive than their peers. A Gallup study found that low productivity costs companies $7 trillion annually.
Those are some rather significant findings. So how do teams become more productive by moving to the cloud?
First of all, the simplicity of cloud applications immediately unburdens your non-technical team members. From automating workflows to simplifying documentation to easier task management, your entire team is freed from clunky technical processes to do what they do best.
The cloud is also an open, easily accessible place where teams can get a clear picture of their work and where other team members are involved in projects. No more manually chasing up and relaying information across different departments; cloud gives you a 360° view of workloads and allows for more focused work.
This ultimately leads to better collaboration. With the way cloud systems are designed, it is the perfect environment to foster and enrich a collaborative work culture. Whether teams are based in different locations or simply practising remote working, collaborating on projects is seamless and efficient with the cloud.
---
There are many ways your business can benefit from the cloud. As AWS and Atlassian specialist partners, you can count on us to help you migrate, scale, and optimise your cloud solutions and achieve your digital transformation goals.
Get in touch to find out how our team can help you.